BIOGRAPHY
Daring, funny and unpretentious, Jérôme Adam doesn't pull his punches!
His experience and life challenges made him aware at an early age that a single decision can change your life forever. As a child, he dreamt of becoming a professional soccer player. Soon, he discovered his entrepreneurial spirit. His passion? Teamwork: optimize individual's talents to make the team the best it can be. Entrepreneurial leadership is in his bones—at 23, he started his first business (Visual Friendly: 15 employees), followed five years later by his second (Easylife Consulting). In 2010, he and Guillaume Buffet launched JCPMY; an audio-visual production company offering a humorous take on diversity in a web series (75 episodes) broadcast by a number of companies, on the French TV channel W9 and viewed over 2 million times on the Web.
Jérôme is a creative and innovative pioneer who blazes new trails and recognizes opportunities others miss. As an entrepreneur and a graduate of Science-Po and the ESSEC business school, Jérôme is also a man of commitment and action. He and Xavier Monmarché created a course at Science-Po called "Être entrepreneur aujourd'hui" (Today's Entrepreneur). In 2014, he became treasurer of the think tank Renaissance Numérique (Digital Renaissance), rallying key academics and leaders of the French Internet to reflect on the transformation of society in the digital era.
Board member of several associations and co-author with Patrick Blanchet of the book Entreprendre avec sa différence (The Uncommon Entrepreneur), Jérôme now gives conferences professionally. In his conferences, he shares his life's most meaningful teachings and highlights thoughtfully how others can apply them in their own daily life and work. His focus is on making others shine rather than putting himself first.
His career path exemplifies that "alone we may go faster, but together we go higher!" Jérôme invites his audiences to become more conscious by cultivating the values —respect, commitment, listening, intuition— that lead to effective action, and to realize that each of us possesses a precious asset: the power to make decisions.
IN BOOKSTORES
« The Uncommon Entrepreneur »
(June 2006, Jérôme Adam & Patrick Blanchet, editions DFR)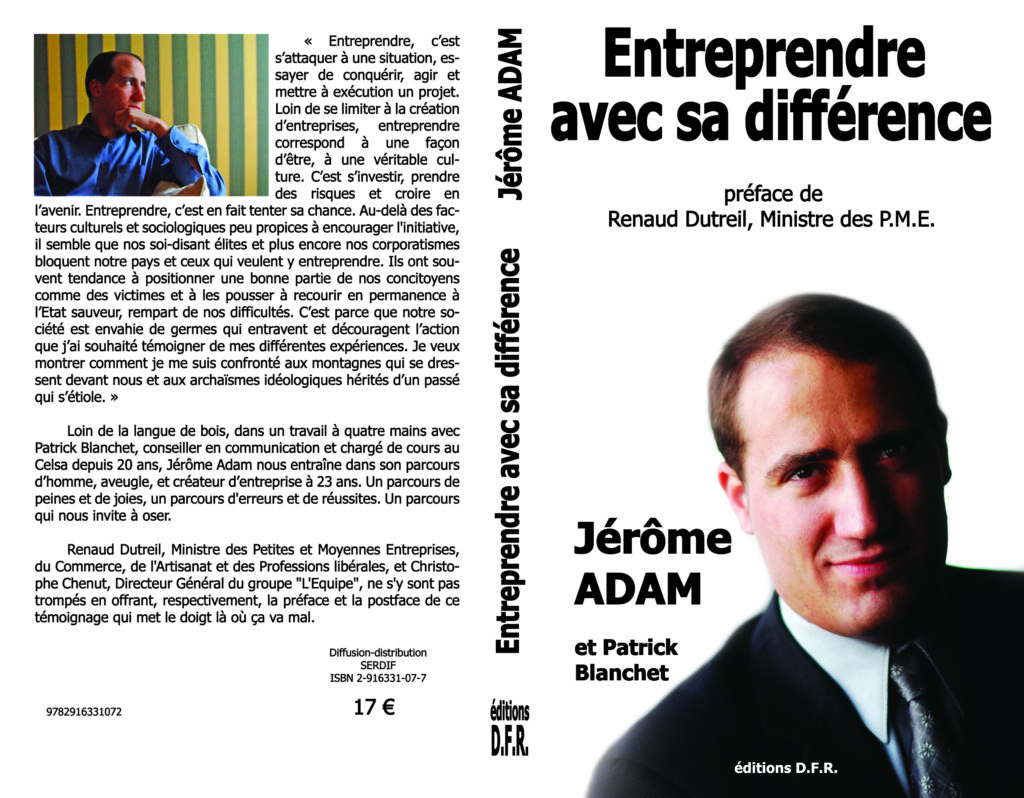 "Being an entrepreneur means tackling situations—enterprising to overcome, to act and implement a project. It's not limited to the creation of companies; entrepreneurship is a way of being, a true culture. It means being committed, taking risks and believing in the future."





Jérôme Adam and Patrick Blanchet
I SUPPORT
Regardless of our level, we can act. Remember: small streams become wide rivers.
And like my mother always said, "You can't take it with you when you go."
KEY DATES
Discover the personal side of Jérôme Adam: