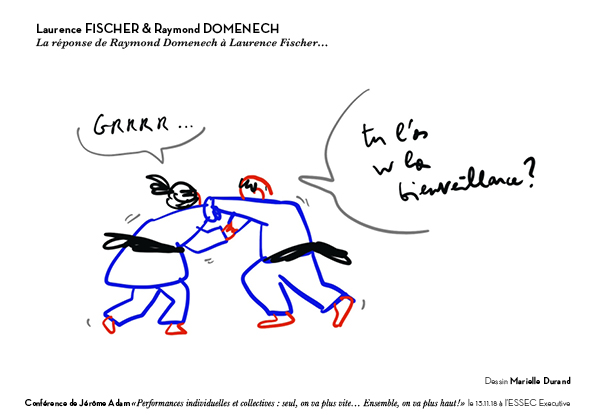 During the presentation of my conference "Individual and Collective Performance: Alone We Go Faster, Together We Go Higher!" at l'ESSEC Business School, artist Marielle Durand provided illustrations. It was our first collaboration. Here is a look back in Marielle's own words:
Can you introduce yourself? 
I am an artist and art teacher. Drawing is my first love and I came back to it a few years ago after spending some time in graphic arts and art direction. It is what drives me and allows me to communicate. In 2015, I injured my right hand and was obliged to draw with my left hand. Today I alternate left and right.
In your words, what do illustrations bring to a conference? 
Drawing is a means of expression that complements the written word. It illustrates and develops themes from a perspective based on an understanding of what is said that may be especially conceptual, or challenging to grasp solely by listening. It is also a kind of visual recording of a moment as opposed to a written one. In this way it can help extend the life of a conference by way of a potential exhibit, online broadcast, etc.
What kinds of illustrations did you create for the ESSEC conference? 
First, I wanted to create an image that represented the challenge of climbing Mt. Ventoux in tandem—the imposing mountain rising above these two tiny cyclists under threatening thunderheads, which were the actual conditions of the climb. While I was drawing this, I was attending an art residency in the Auvergne region, another mountainous area. I decided to link the two sceneries and made the Ventoux illustration part of my Bleu d'Auvergne project in the same blue ink. This illustration introduces and accompanies Jérôme's words.
I did the other drawings on tablet in real time so they could be projected onto a screen during the event and the cocktail party. They included a selection of illustrations from the round table with Raymond Domenech and Laurence Fischer.
Jérôme also asked me to do a drawing depicting a challenge—on a tandem bicycle, one man's seat is another man's handle bars—in a self-deprecating, humorous light to demonstrate how honesty and communication are essential in any undertaking.
What should companies know about your work at a conference? 
Drawings can be done beforehand: the Mt. Ventoux in blue ink, for example, would have taken too long to create in real time. Digital art on a tablet, on the other hand, affords immediacy, intimacy and relative technical ease, in that a projector, screen and connectivity are not usually complicated to set up.