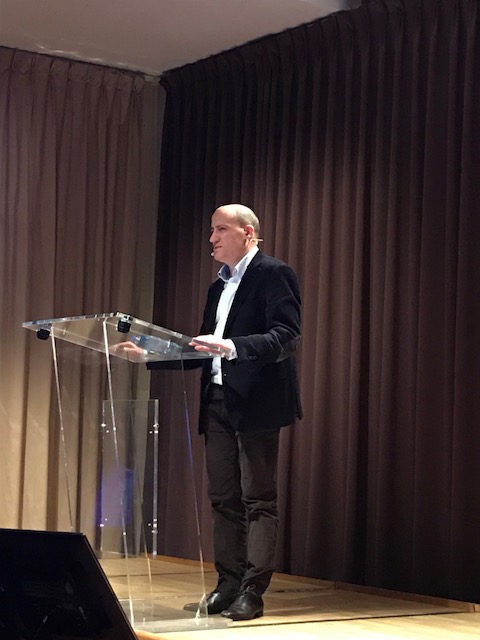 The Brightness agency, a TEDxParis partner, asked me to participate in a conference on performance with two other speakers who have already appeared on the TEDxParis stage: Yves-Marie le Bourdonnec (French pioneer of aged meat and head of six butcher shops among the ten best in the world) and Hugo Mercier (co-founder and CEO of the neurotechnology enterprise Rythm, whose pioneering product, Dreem, is designed to improve sleep).
We gathered at the Maison de la Chimie (seventh district of Paris) where we each presented (in less than 15 minutes) our vision of performance to managers of AbbVie, a biopharmaceutical company.
I based my talk on my climb up Mt. Ventoux on tandem bicycle with Guillaume Buffet, and the companies I've established. I addressed the issue of missing supplies on the climb up Ventoux (the loss of Guillaume's energy drink) and sought an answer to the following question: Why, when faced with such an obstacle, would the experienced cyclist get frustrated and the novice stay calm? In other words, why would the expert perform worse than the novice at that moment?
My talk addressed the following issues:
The link between professionalism and adaptability/flexibility
Our limiting beliefs about performance as seen through the lens of recruits in my first company
How our beliefs affect our abilities and how we act
How do we transcend our limiting beliefs to improve performance? From concrete examples I discussed principles, indeed values, that I hold dear: being careful not to think for others, knowing how to listen and the belief in change (of people and situations)
In conclusion, I put forth the idea that performance is born out of talent diversity and complementarity and that simply gathering a team of the best and brightest does not necessarily translate into top performance.

 

"Alone We Go Faster, Together We Go Higher!"